Update: It was not meant to be. Unfortunately, due to too strong winds, the Balloon Glow and the Drive In movie had to be canceled. Such a pity.
The 10th Annual Lake Havasu Balloon Festival and Fair was canceled due to Covid-19 concerns, but the event's organizers have planned four smaller, more socially distant events for January 15-17, 2021.
The balloon night glow, drive-in movie and 5K will take place at the SARA Park Rodeo Grounds, the tournament at the Refuge Golf & Country Club in nearby Desert Hills. Check the Havasu Balloon Festival and Fair website for more information: https://havasuballoonfest.com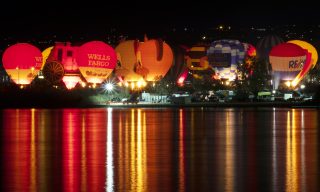 Entrance $20 per vehicle, cash only, no credit cards. Visitors are encouraged to bring their own food and drinks as no vendors will be at the event. Restrooms are available.
The next full Hot Air Balloon Festival is planned to take place from January 20 – 23, 2022.
Please also note the video of Lake Havasu City on our website. It might already inspire you to plan your vacation.