Even the approach to land in Juneau is most impressive. Smaller and larger islands appear intermittently in the vast waters before the pilot safely passes by the dense forests of Douglas Island, crosses the Gastineau Channel, and sets course for the international airport. The camera is already clicking a few times, despite the slightly dirty windows of the plane. These are only the first impressive photo motifs. Juneau offers many more opportunities for capturing unique and spectacular scenery – even in the cold winter.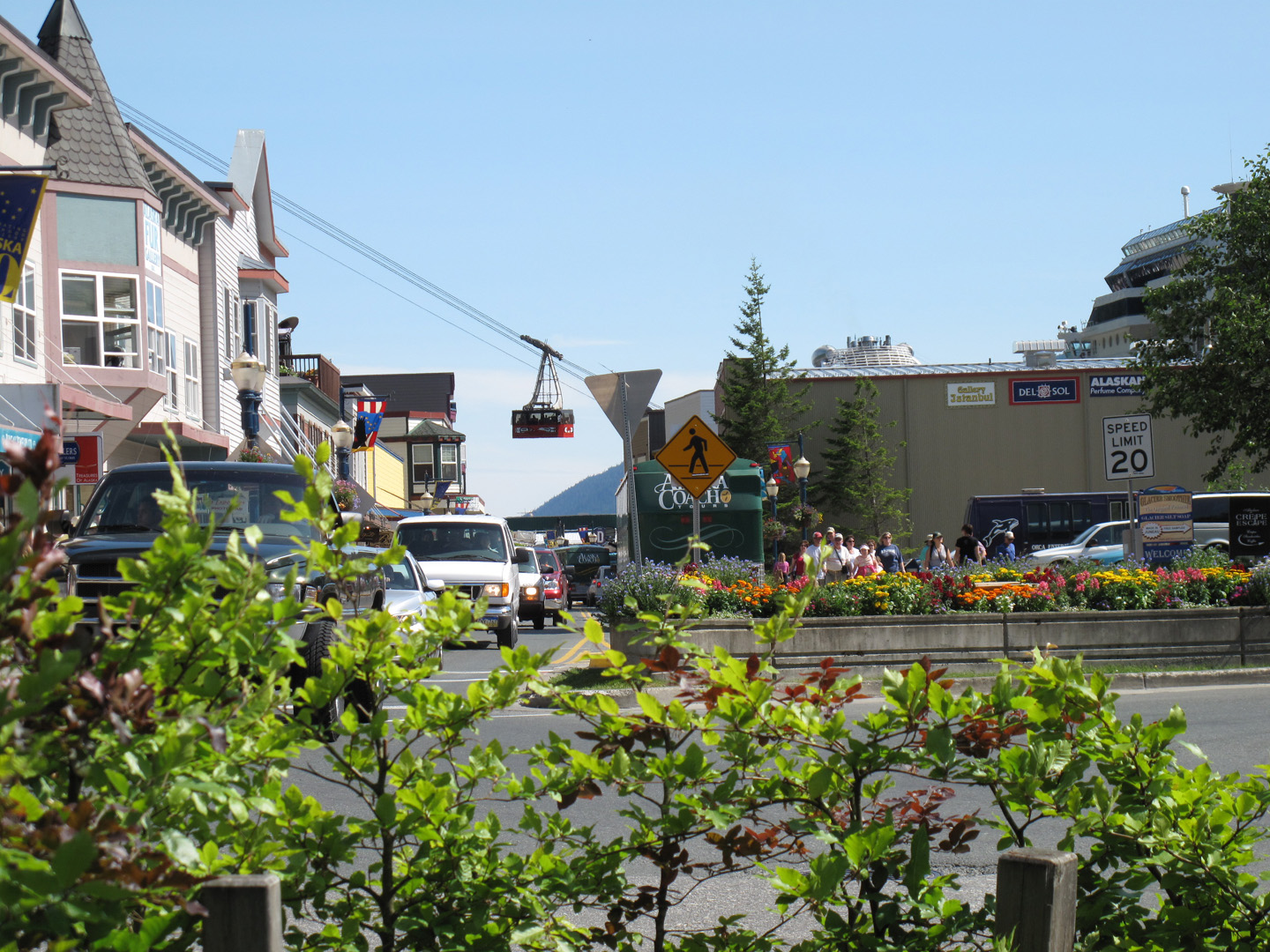 Juneau is one of the oldest cities in Alaska and was founded during the Klondike Gold Rush. The area was first inhabited by the Tlingit people, who led prospectors Joe Juneau and Richard Harris, among others, to today's Gold Creek, where massive amounts of gold nuggets were scattered along the banks. They staked out an area for a settlement which Harris initially named Harrisburg. On December 14, 1881 it was renamed Juneau. Within just a few years, Juneau went from a fishing village to the hub of the mining industry. Shortly thereafter, the largest goldmine in the world, back then, was developed. The "Treadwell Mine" reached peak production in 1915 and closed its doors in 1944. In 1959, Alaska was admitted as the 49th state to the USA and Juneau was named the capital. Many miles of underground tunnels remain from the heyday of gold mining. In fact, there are more tunnels than roads in the city. Today, Juneau has a population of approx. 33,000. The tourism industry – especially the cruise ship industry in the summer – is one of the largest employers. Other industries that play an important role include retail, silver mining in the north of adjacent Admiralty Island, and fishing.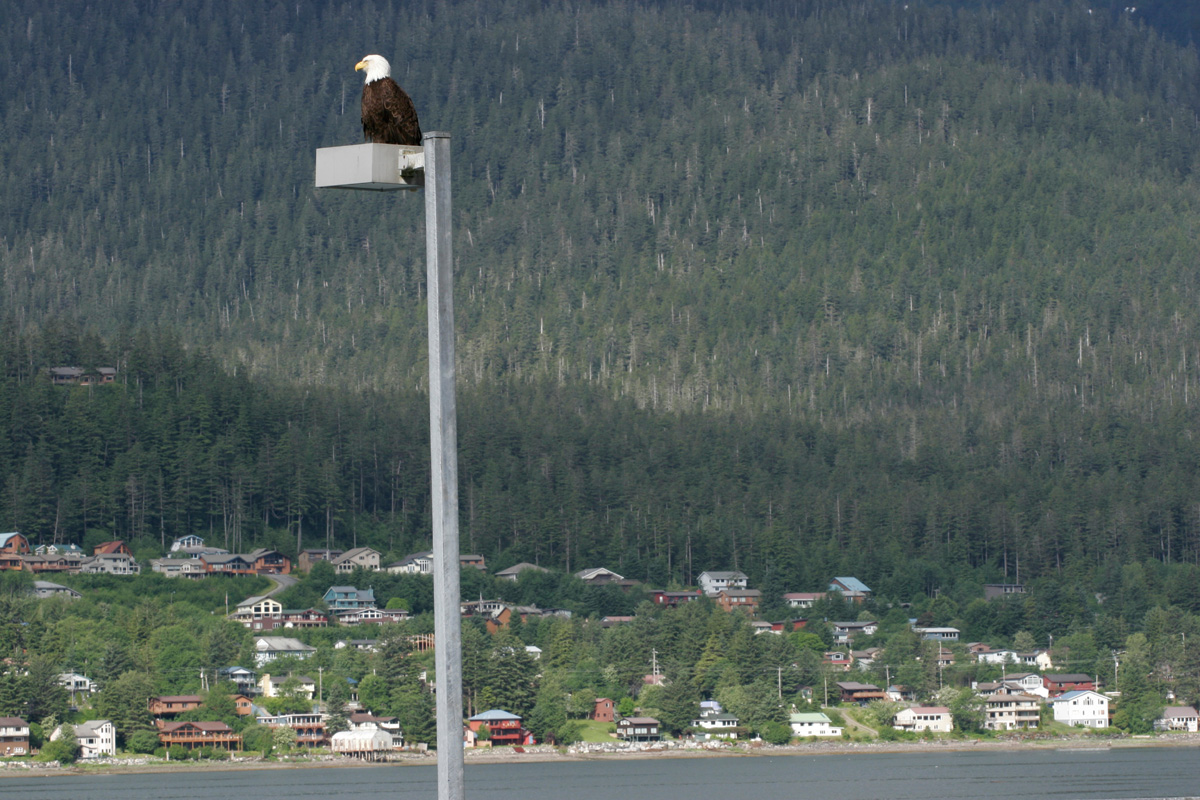 Juneau is located west of the border with Canada and can only be reached via plane or boat. Framed by Mount Juneau, Mount Roberts, and the Gastineau Channel, an 18-mile strait between the city and Douglas Island, fabulous views as far as the eye can see present themselves. Despite the hustle and bustle of the port during summer due to the traffic of sea planes, fishing vessels, and cruise ships, there is a deep-seated feeling of peace and serenity. In the winter, things slow down even a bit more, and you can have the attractions, natural highlights, and adventure spots to yourself. However, for visitors from Europe, it is best to come in late spring or fall. This is simply because most tour providers only operate from May to September/October. For many, visiting Alaska is a once in a lifetime experience, and you want to pack as many activities as possible into your stay – although it is impossible to cover it all during a vacation. Here, you will experience nature and wildlife as you have seen it only in documentaries.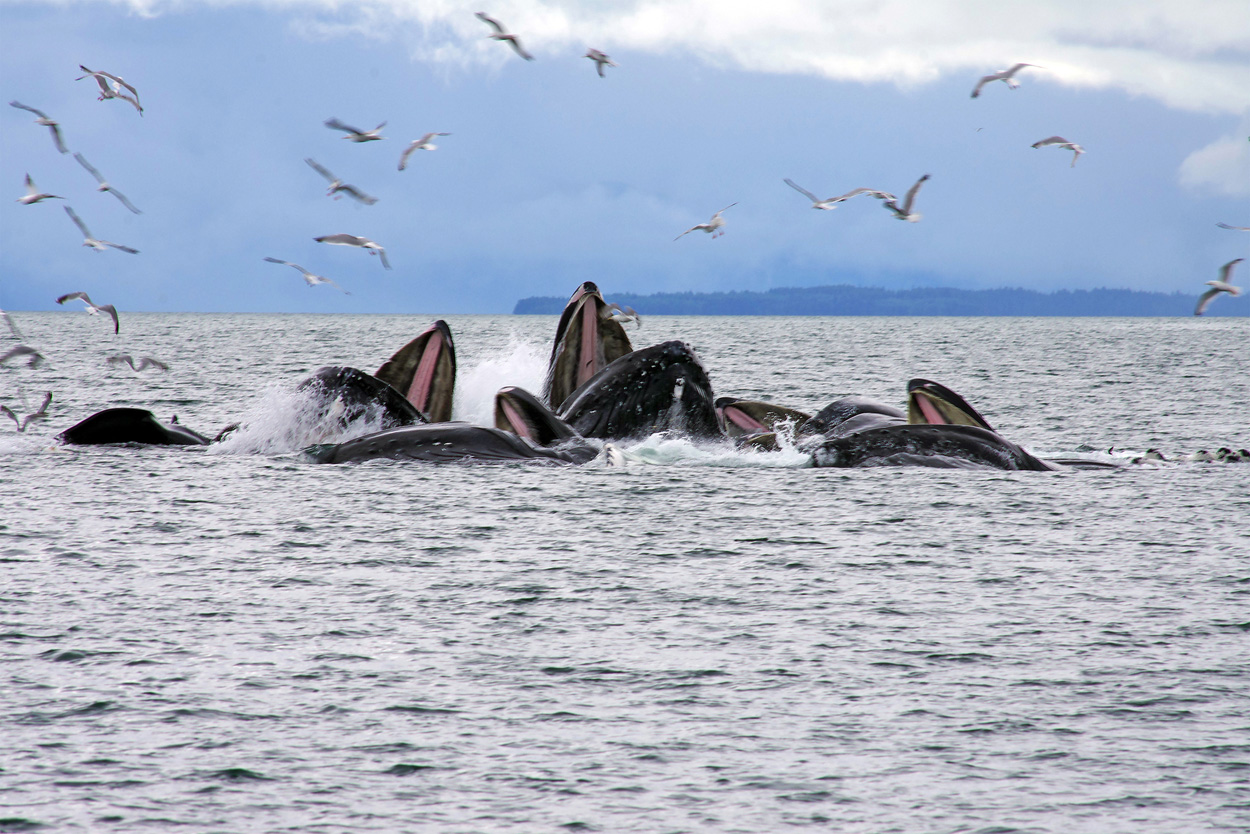 After arriving in Juneau around noon, we check into the Baranof Hotel and decide to explore downtown. The historic district, only a few steps away from the water, can easily be covered on foot. Lots of small shops, hotels, gift stores, restaurants, and bars line the streets. One store leads directly to the next. Juneau has the charm of a small town with a lot of atmosphere: narrow streets, new buildings with modern glass facades, picturesque homes from the pioneer days, and elegant Victorian mansions.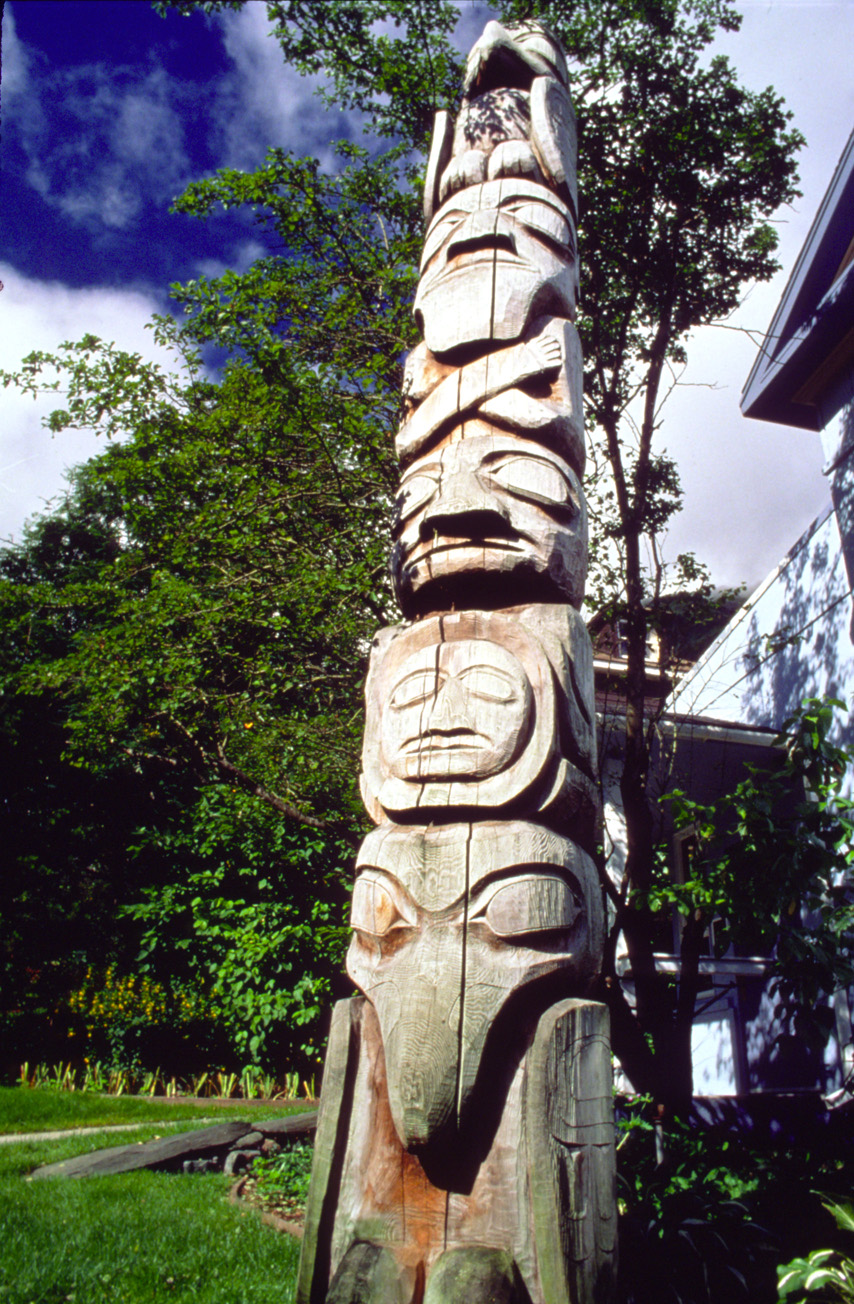 If you want to learn more about Juneau's development and history, you have two excellent options: the Juneau-Douglas City Museum, with exhibits that focus on the area's gold mining history, and the highly recommended Sealaska Heritage Institute, which was built to honor the native peoples of Alaska. It not only houses numerous exhibits, but also serves as event center for ceremonies and festivals of the Tlingit, Haida, and Tsimshian peoples. The gift shop features primarily exquisite, handmade artwork: beautiful jewelry, paintings, photographs, and sculptures.
Another city attraction is the Alaska State Museum which, with its numerous changing exhibits, provides information on the cultures of the native peoples as well as the settlements of Russian and American pioneers. On Calhoun Avenue, you can sneak a peek into the Governor's Mansion, but only from the outside. The mansion, built in 1912 in the colonial style, has 26 rooms, including ten bathrooms, six bedrooms, and eight open fireplaces. A feature worth noting in the front garden is a totem pole, presented as a gift by the Tlingit people. The current governor of Alaska, Bill Walker, lives at the residence with his family. At the corner of 4th and Main Street, you will find the State Capitol. Here, you can gain insights into political activities. The building houses the state legislature, the office of the governor and lieutenant governor, and many historic photos and drawings. Free, 30-minute tours are available throughout the summer.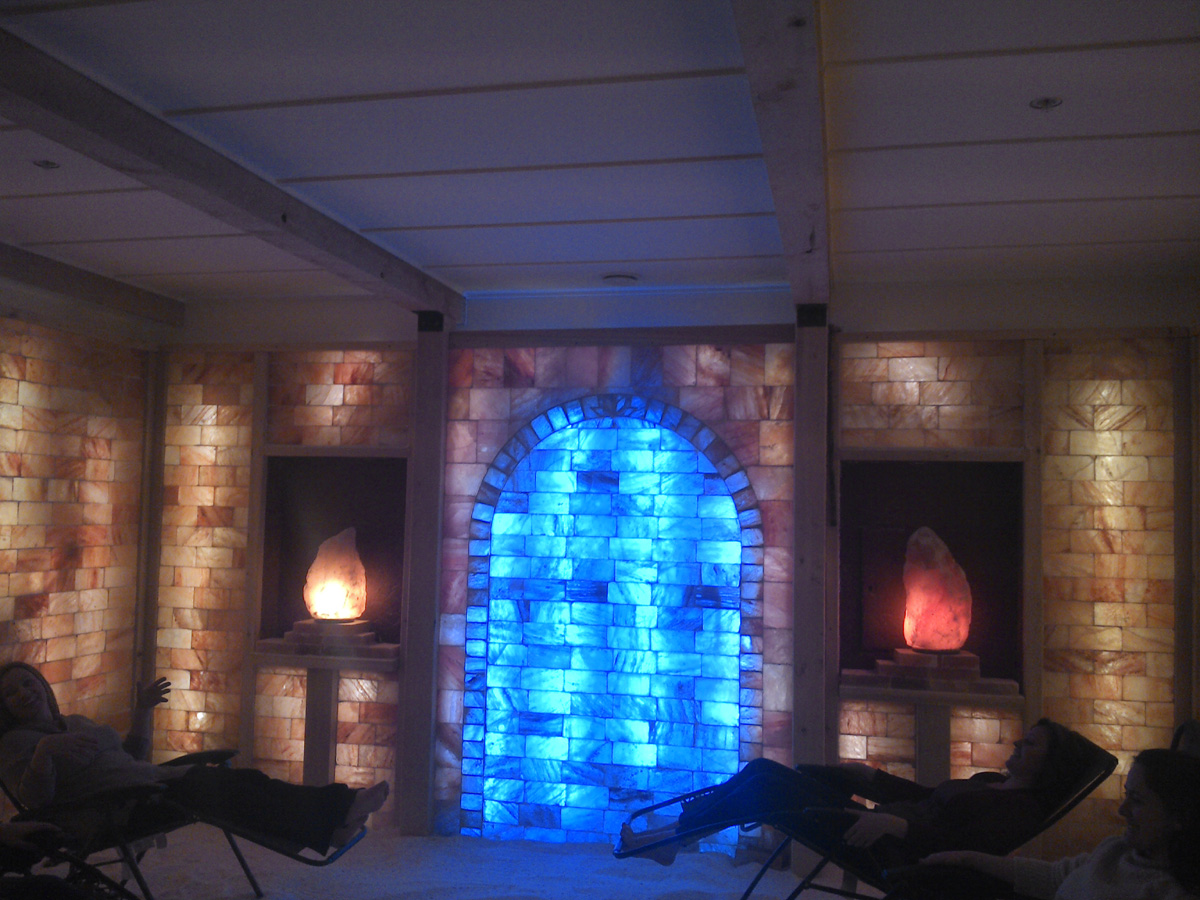 We decided on a different kind of adventure and visited the Glacier Salt Cave & Spa. The small facility delivers big results. You enter the cavern, strewn with Himalayan salt crystals, barefoot. It is an unusual sensation – as though you are walking on rough sand. The interior features several chaises lounges and fantastic, impressive lighting patterns on the walls. The soft light, paired with pleasant, relaxing music, creates an extraordinary atmosphere. But the cave is not about relaxation. The anti-inflammatory and antibacterial effects of healing salt form the basis of so-called halo-therapy. The mineral component provides different healing effects that stimulate the immune system, circulation, and bone structure. They may also help alleviate allergies, asthma, and psoriasis.  Wellness in its purest form! Take some Himalayan salt crystals, a salt lamp or a candle holder back home with you; we were assured that the salt truly comes from the Himalayas.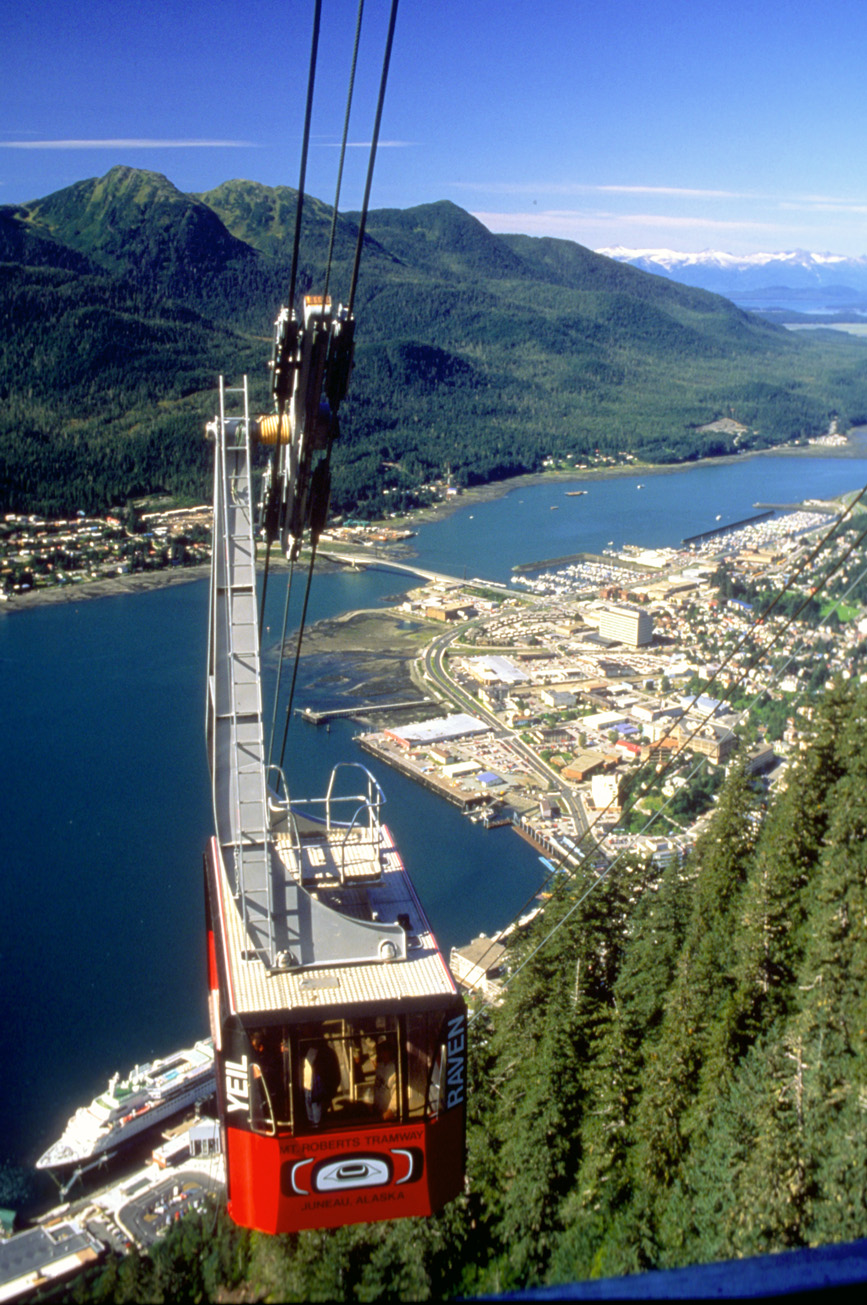 After a relaxing first day, we get an early start the next morning. Juneau lies at the base of the almost 4,000 ft. Mt. Roberts, which can be explored in two ways.  The "Mount Roberts Tramway" takes you from the station at the waterfront to the mountain station at 1,600 ft. in just six minutes. Already the ascent by tramway provides spectacular views of the city and along the Gastineau Channel. If you prefer to keep your feet on the ground, you can take the Mt. Roberts trail to the top of the mountain. The trail begins at the end of 6th Street. From there, wooden stairs lead to the actual hiking trail. The hike is approx. 4 miles (one way) and passes through the Tongass rainforest, which consists mostly of Sitka spruce and alder. Further on, you pass through meadows that are full of colorful wildflowers in the summer. At the halfway point, you can have lunch or dinner at the panorama restaurant Timberline Bar & Grill.  At the top, you will be rewarded with 360º views. The mountain station of the Mt. Roberts Tramway offers a few surprises. In addition to watching an 18-minute film, shown in the 120-seat Chilkit Theater (unfortunately only in English), you can see native artists perform their craft in the gift shop. The Mt. Roberts Tramway is open from May to September.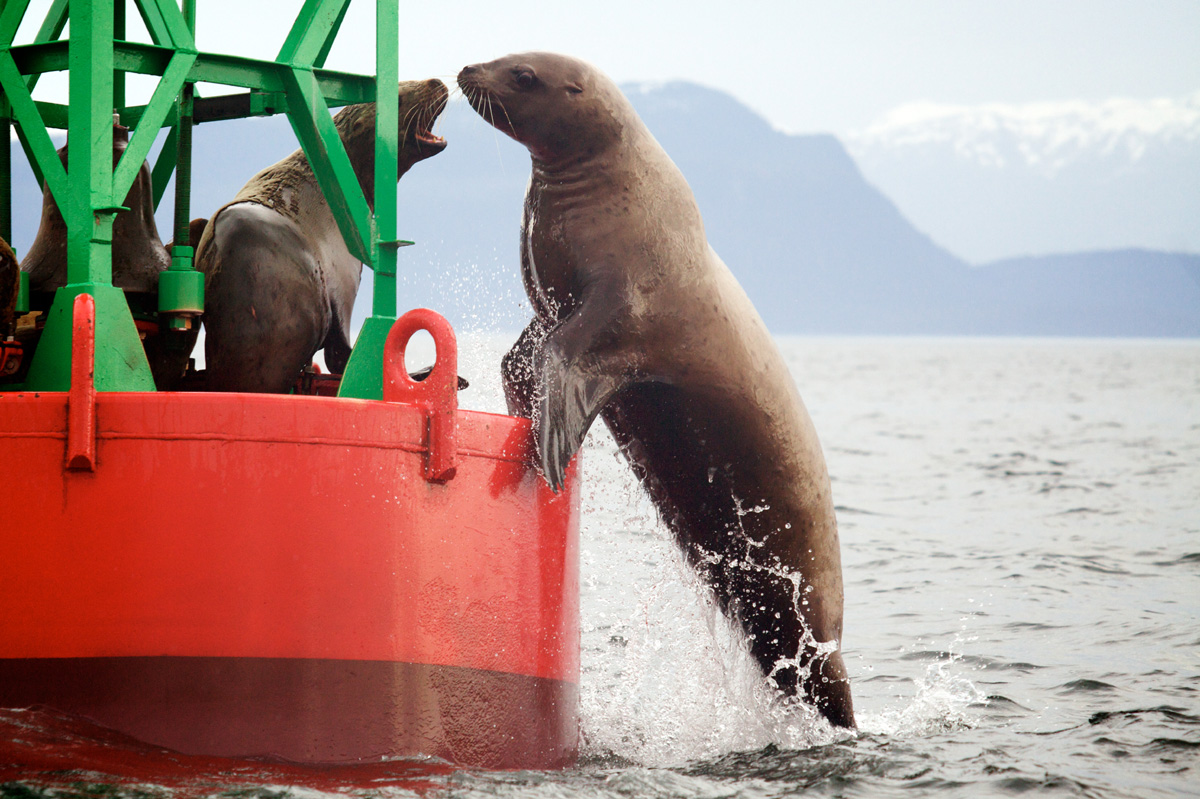 An absolute highlight in Juneau is a helicopter tour to one of the surrounding glaciers, for example, the majestic Mendenhall Glacier, a natural wonder that should not be missed. Mendenhall Glacier is 5,000 ft. above sea level and is a small offshoot of the Juneau ice field, which, with an area of 1,500 sq. miles, is the largest ice field in Alaska and includes 38 glaciers. Lush vegetation and abundant wildlife make the visit an awesome experience. Be sure to keep your eyes open for a bald eagle. The magnificent birds are often found sitting in tree tops or spend their time along the coast, where they swoop down on their prey in a nosedive. Seals, humpback whales, and orcas, the killer whales of the oceanic dolphin family, provide incredible entertainment on the surface of the water. Nature lovers and adventurers are sure to get their money's worth.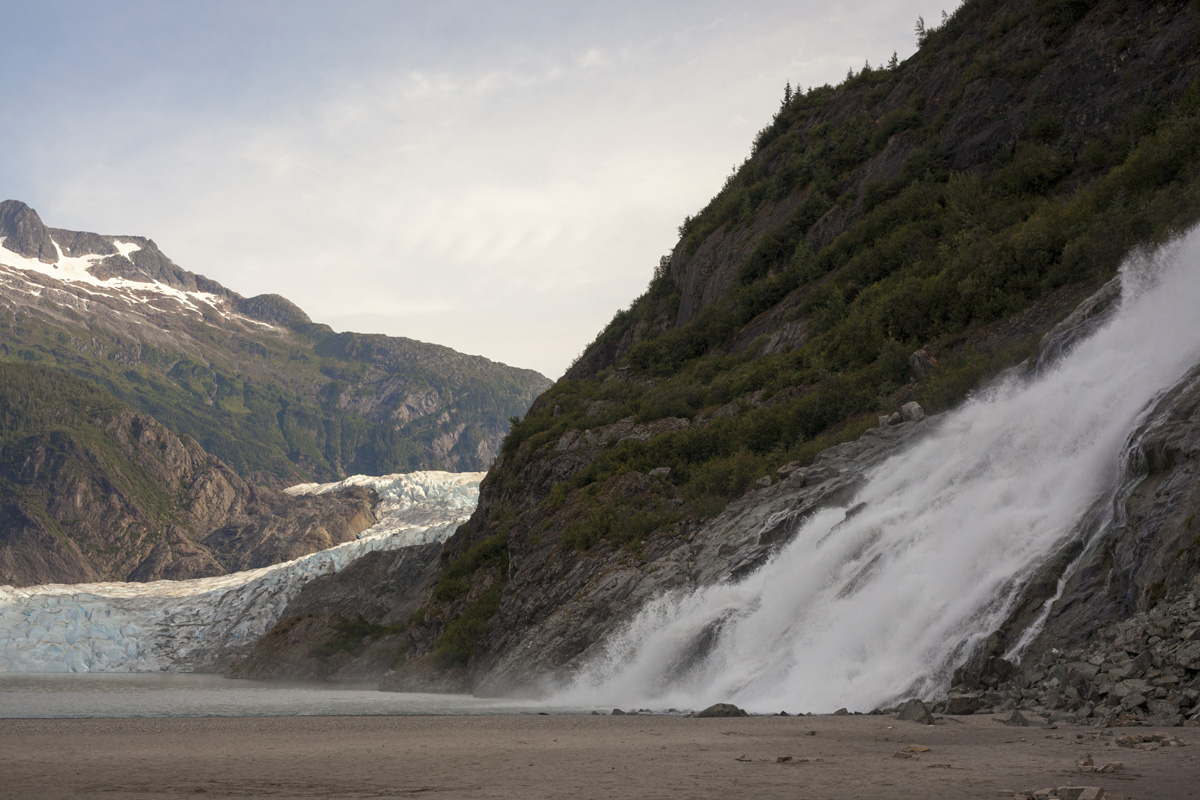 The glacier is located approx. 12 miles from Juneau and can be reached by car. Be sure to plan enough time for your visit. Aside from the helicopter tour, which, depending on which one you book, will take up to 2 hours, you can and should also explore the area on foot. A narrow path leads to a mysterious ice cave. An imposing yet suspenseful quiet awaits. The ice shimmers in various shades of blue and the walls sparkle like diamonds. There is a path that leads from the visitor center to the glacial lake. If you follow the windings of the lake, you will reach Nugget Falls, an impressive, almost 400 ft. waterfall with the glacier in the background. Here you will find infinite photo opportunities.
Your best chances to see sockeye salmon are between July and September along Steep Creek, flowing directly adjacent to the visitor center. If you are lucky, you might also see a black bear fishing. While Mendenhall Glacier is accessible year-round, the best time for a visit is from May to October. With more than 250 miles of hiking trails (ranging from easy to difficult) you can really get a good workout.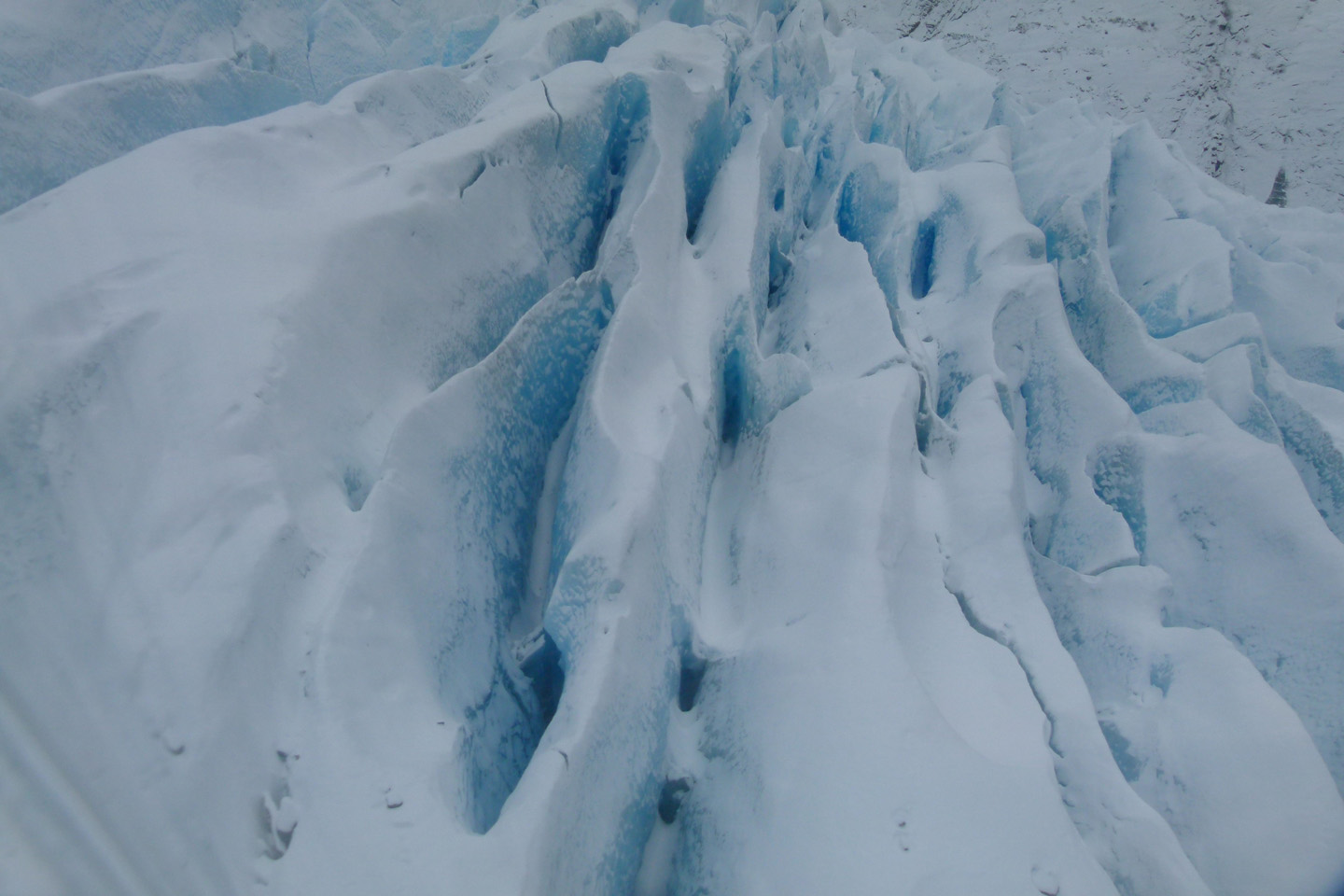 There are several companies that provide glacier tours, by helicopter or bush plane. We flew with Temsco Helicopter. After a brief introduction to the safety precautions and the allocation of "glacier boots", we proceed to the helicopter. There, we receive a short explanation on how to operate the headphones and then we are off on our adventure. I put all my trust in Andreas, or Andy, our Austrian pilot. Shortly after take-off, however, I am mesmerized by the amazing views, and any uneasiness I may have felt vanished.  We leave Juneau and fly over rainforests, mountain ridges, and peaks that give us a dramatic entry to Mendenhall Glacier. "Flightseeing" affords you sensational views of the vast ice fields. We pass closely by massive ice blocks and crevasses to take pictures of the blue glacial ice. It is incredibly exciting – the camera shutters are clicking like mad!
In the meantime, Andreas has scouted a suitable location for landing. Depending on weather conditions, this is a critical juncture, since the weather can change in just a few minutes, making a landing too risky. But we are in luck. The helicopter lands safely on the vast ice field. We disembark and explore our surroundings; no one in our group has ever landed on a glacier with a helicopter before. It is an incredible experience. We are all very excited and enjoy the clear, cold air and the crunching ice. After spending approx. 20 minutes on the ice field, we start to head back. As a final treat, we fly past the Mendenhall Towers – gigantic rocks that stretch close to 6,500 ft. into the air.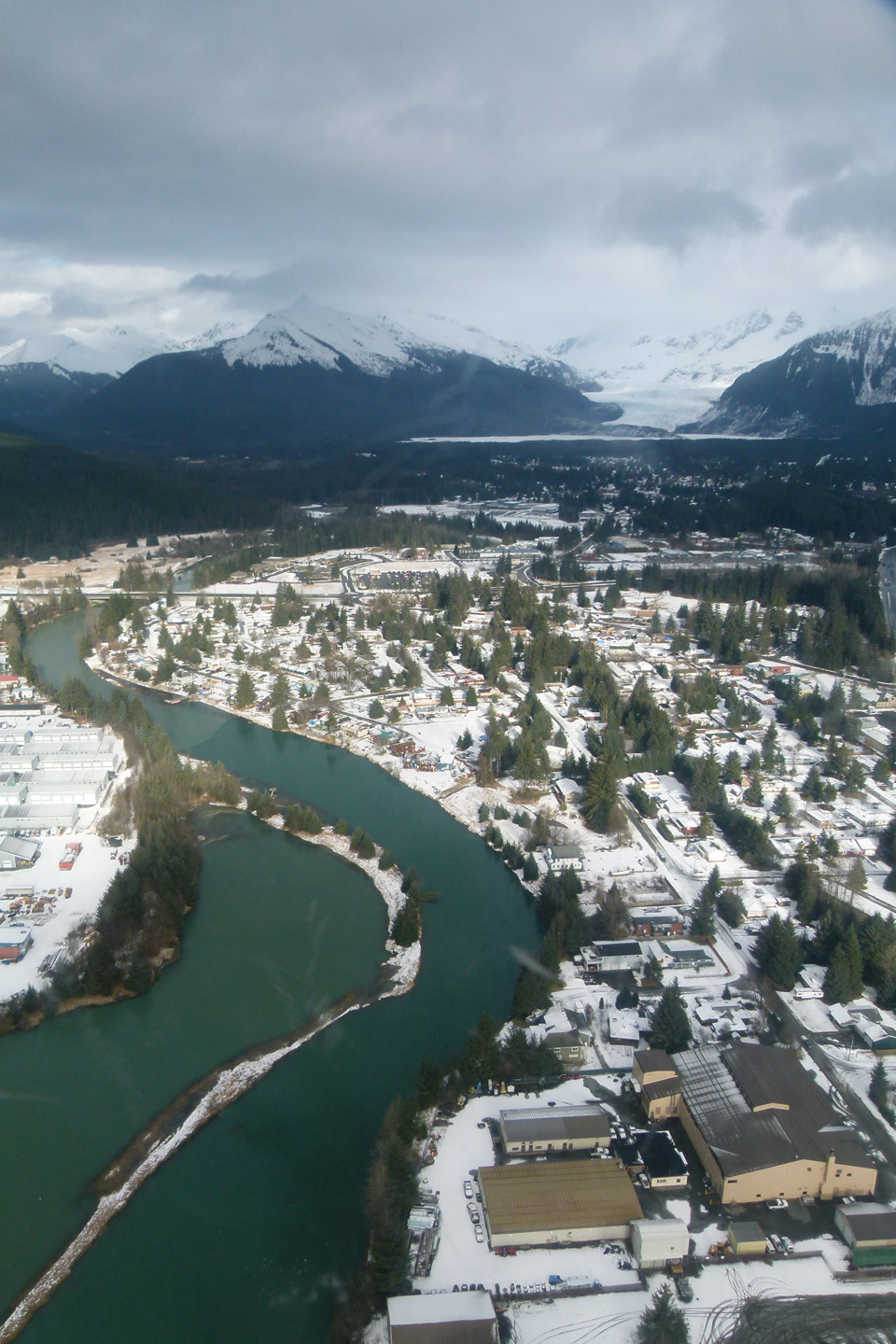 Glacier Bay National Park boasts even more glaciers, 50 named majestic glaciers in all, seven of which stretch to the ocean. One of the park's most spectacular glaciers is Margerie Glacier, a 21-mile tidewater glacier that terminates into the sea with a 230-ft.-high, sheer wall. Glacier Bay is an unspoiled natural paradise, one of the last, and a haven for land-based wildlife such as grizzlies, black bears, moose, and elk, as well as sea animals like sea lions, seals, dolphins, whales, salmon, and, with a lot of luck, polar bears.
You want to see bears? No problem — we have something very special for you. Be sure to plan a whole day for this activity. We fly to Admiralty Island with Pack Creek Bear Tours. The island's nature preserve is home to more than 1,500 brown bears (grizzly bears). The tour begins with a 25-minute flight in a bush plane over turquoise bays to look for whales, eagles, and, of course, bears. Once we land on the island, Ken, our tour guide, leads us along a 1-mile hiking trail to an observation tower. Here, you are incredibly close to these giants of the wilderness and can watch them hunt, play, and fish in their natural habitat. Tour groups are small; each guide has only five visitors. It is helpful to have at least some English language capability as you not only see a lot of bears, but also learn a great deal about them. What you won't find are hordes of people. Here, you are almost alone with the bears. Don't forget your camera!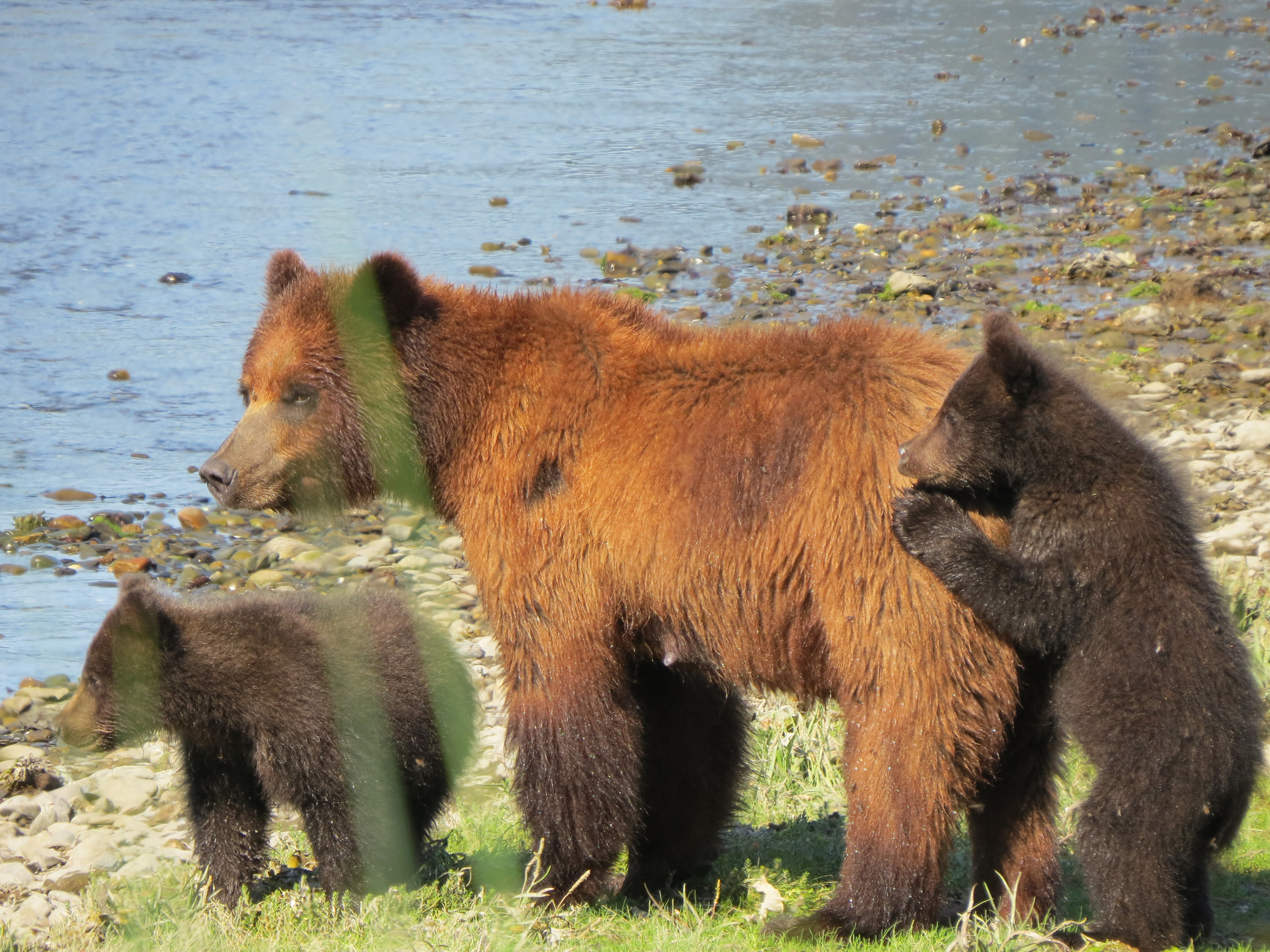 There is still so much to see and do. Local providers offer many more adventures ranging from sailing and kayaking to whale watching and trekking tours, as well as dog sled rides and skiing.
Of course, you need lots of energy for all these exciting tours. Start with a hearty breakfast, which can be found, for example, at the Capital Café at the Baranof Hotel. Your lunch and dinner options in Juneau range from casual to fine dining. Get your fill of fresh fish here – from the waters of Alaska – as close as you can possibly get. The taste and consistency of Alaskan fresh fish are renowned throughout the world; Pollock, halibut, wild salmon, sole, shellfish, and excellent oysters.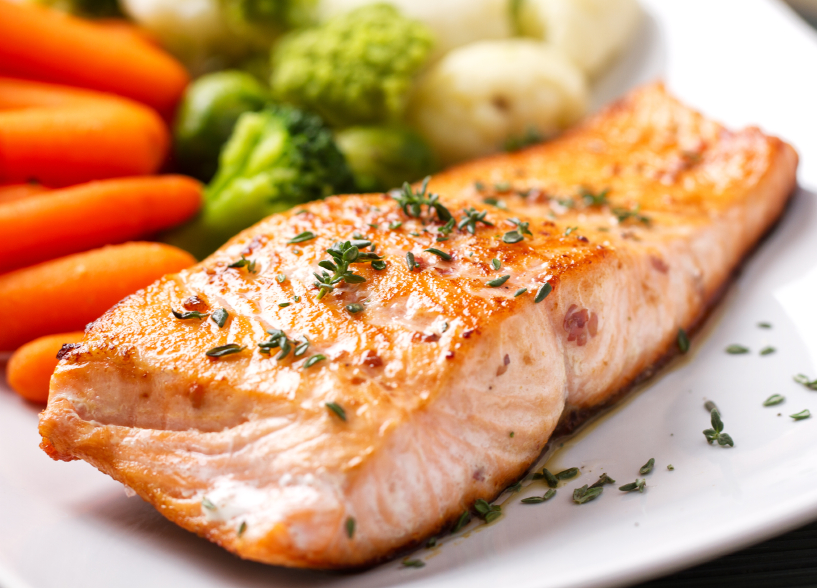 For American standards, the Rookery Café is a rather atypical bistro. Here, you share a table with up to 16 other guests. Chef Beau Schooler creates the most exquisite local treats. Not surprisingly, in 2015 he was the first winner from Alaska at the "Great American Seafood Cook-Off" to be named "Best Chef for Seafood". Modern, innovative, and a little more "sophisticated" is the restaurant Salt on Seward Street. Chef Lionel Uddipa creates delicious fish and meat dishes daily from 11:00 am to 10:00 pm. Happy Hour is from 4:00 to 5:00 pm. For a different kind of fare from the foregoing, try the Front Street Café, located in the historic Imperial Bar, the oldest saloon in town, dating from 1891. Fresh handmade burgers and sandwiches are among the specialties here. Pair these with a delicious local beer from the Alaskan Brewing Company. From October to April you can try their newest (and proven) beer creations in their tasting room.
An interesting way to try several restaurants at once is through Kelly "Midgi" Moore's Juneau Food Tour. The tour includes 8 tastings in 6 different restaurants as well as a small gift. As an added benefit, you learn a lot about the history of the capital city.
We stayed in the Baranof Hotel during our stay. But Juneau also has several nice, small boutique hotels and bed & breakfasts such as the Silverbow Inn or Pearson's Pond Luxury Inn and Adventure Spa.
If you are looking for a shopping mall, you have come to the wrong place. And this is exactly what makes shopping in Juneau fun. Beautiful, extraordinary stores and small shops rule the retail scene. Jewelry, antiques, knives, Native American art, and t-shirts are all available in a pleasant setting. The Glacier Smoothie Soaps are a great gift idea. The natural soaps are made by a family business and have received several awards. They contain glacial silt that is rich in minerals, provide your skin gentle exfoliation, regulate moisture, and make your skin silky smooth. You can buy them in a store by the same name on South Franklin Street. The Himalayan Salt Crystals mentioned above also make a great gift.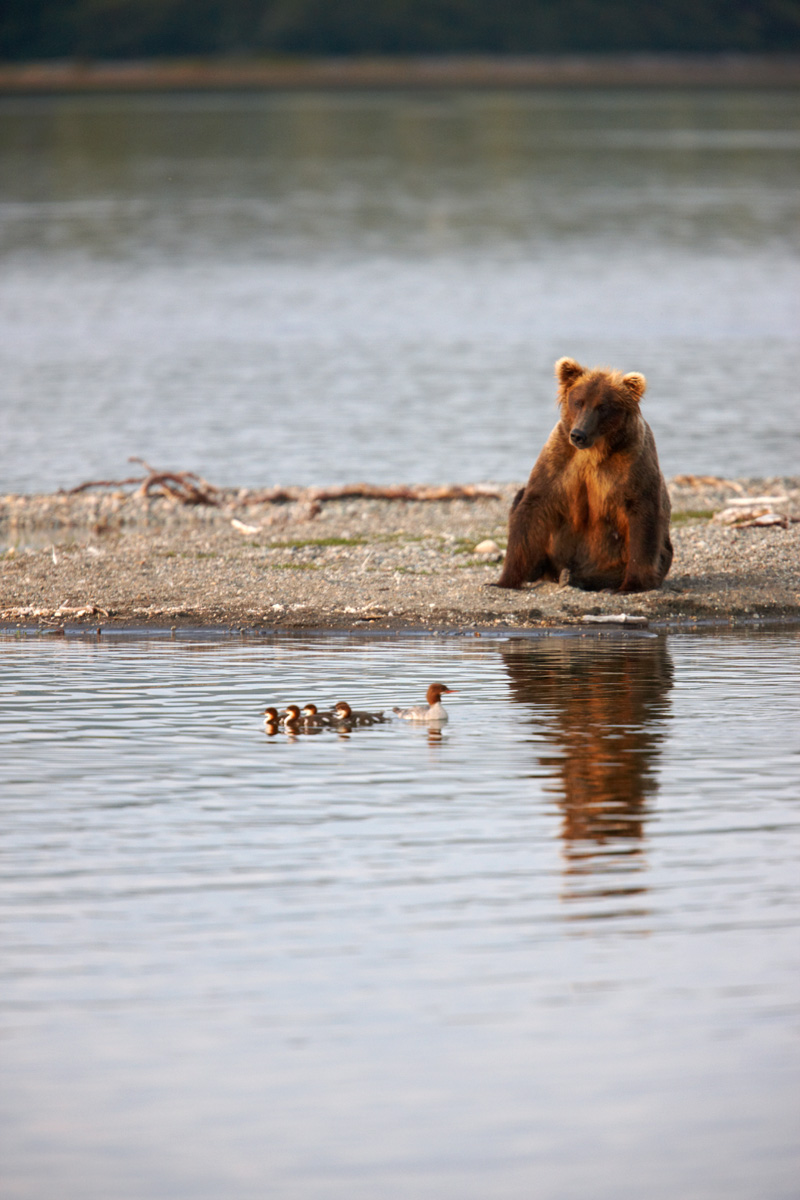 One vacation alone is not enough time to explore all the attractions of Juneau and the natural wonders of the surrounding wilderness. Juneau embodies a feeling of freedom and adventure – the spirit of the West. However, this "last frontier" also demands that you adapt and not only watch for your own safety, but also for the wellbeing of the wildlife. It is entirely possible that you encounter a black bear or a porcupine right in the middle of town. Please do not approach wildlife and never feed wild animals. Stay on marked trails when hiking and be sure to take plenty of food and water with you. Stop by the tourist information office in the Davis Log Cabin on 3rd Street to pick up current maps. Be prepared for rough weather; layering is key. This way, you well be well prepared for your adventure in Juneau!
How to get there:
Juneau is accessible by air (or water) only. Flights usually connect in Anchorage or Seattle. To get around, it's best to reserve a rental car.
Photos: Travel Juneau; State of Alaska: Chris McLennan, Brian Adams, Reinhard Pantke; Sonja Stimmer