Colorful rocks and landscapes, deep canyons, and rock art – a magical wilderness in the heart of Utah. This is what Canyonlands – Utah's largest national park – is known for. The approx. 502 square mile adventure playground outside of Moab is not only a draw for nature and sport lovers, but also for those interested in prehistoric cultures or seeking tranquility. You could spend the rest of your life here and still not discover everything.
Over the course of centuries, the Colorado and Green Rivers have forged deep canyons through the Colorado Plateau and divided the park into three sections: Island in the Sky, Needles, and Maze. These sections are named based on their geological characteristics and vary quite a bit from one another. There are no roads connecting these individual sections within the park, and you can therefore only cover one or two in a day. Short hikes of approx. 0.5 to 1 mile can be found in the Island in the Sky section. Longer hikes in the Needles section take you to ruins, viewpoints, rock arches, and other geological formations. A permit is required for hiking in the back country, camping, mountain biking, river rafting, and four-wheeling. Additional fees on top of the park entry fee may apply. The climate in Canyonlands is extremely dry; summer temperatures often exceed 104°F, but may be as low as 68°F. It is mild in spring and fall, and temperatures average approx. 77°F. In winter, temperatures generally hover around 32°F and below freezing; snow is rare.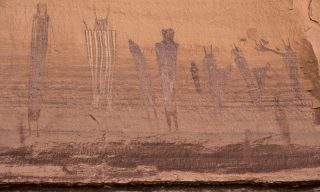 Researchers estimate that the area, like many other locations in the region, was settled more than 5,000 years ago. In the southern part of the park, geologists have discovered rock art that dates to the 9th century and is attributed to the Fremont culture. These people were hunters, gatherers, and farmers and lived in rock alcoves or simple stone structures. Later, the Anasazi moved into the area. They also left their artistic mark on the rock walls and lived in rock shelters and caves. Near the flood plains and rivers, they grew primarily corn and squash. They bred turkeys for food and used their feathers for ceremonies. Nobody knows why the Anasazi left the region. Persistent drought conditions followed by severe flooding, or the arrival of the Ute tribe may have been reasons for their departure. The Utes and Navajos lived in the area that is now park land until the end of the 18th century. Then they were displaced by cowboys, ranchers, and Mormons. In 1869, the soldier, researcher and cartographer John Wesley Powell was given the mission to explore Canyonlands. Due to the extremely dangerous canyons and rapids like those in Cataract Canyon, several of his expeditions proved to be very challenging to the research team. But the excursion led to the first detailed geological and topographic information of the area. Canyonlands was declared a national park on September 12, 1964.
The easiest access to the Needles section is south of Moab. The Needles district has a 10-mile road with intriguing landscapes that give visitors an impression as to why this section is referred to as Needles. Towering sandstone structures, separated only by a variety of other rock formations such as cracks, arches, and ravines, offer an unparalleled drama. You can complete this tour in one or two hours. However, many of these magical rock formations and the prehistoric ruins, rock art, and pictographs are located in the back country and can be reached only via 4-wheel drive vehicle or a long hike. The Needles features close to 65 miles of connected hiking trails that are all pretty challenging. Elephant Hill Trailhead is a popular starting point for excursion of various durations and degrees of difficulty. Those who venture into the beautiful landscape can spend the night at one of three different, well equipped campgrounds. The visitor center located at the park entrance can give you information on availability. Except for December and January, the visitor center is open daily from 9:00 am to 4:00 pm. Off-road enthusiasts also meet at this trailhead as it is starting point of one of the most challenging cross country routes. Several sections require nerves of steel and no fear of heights. Other than that, there is nothing that stands in the way of the adventurer. In contrast to other parts of the world, off-roading does not have a bad reputation in the US. However, you should stick to the indicated routes as much as possible.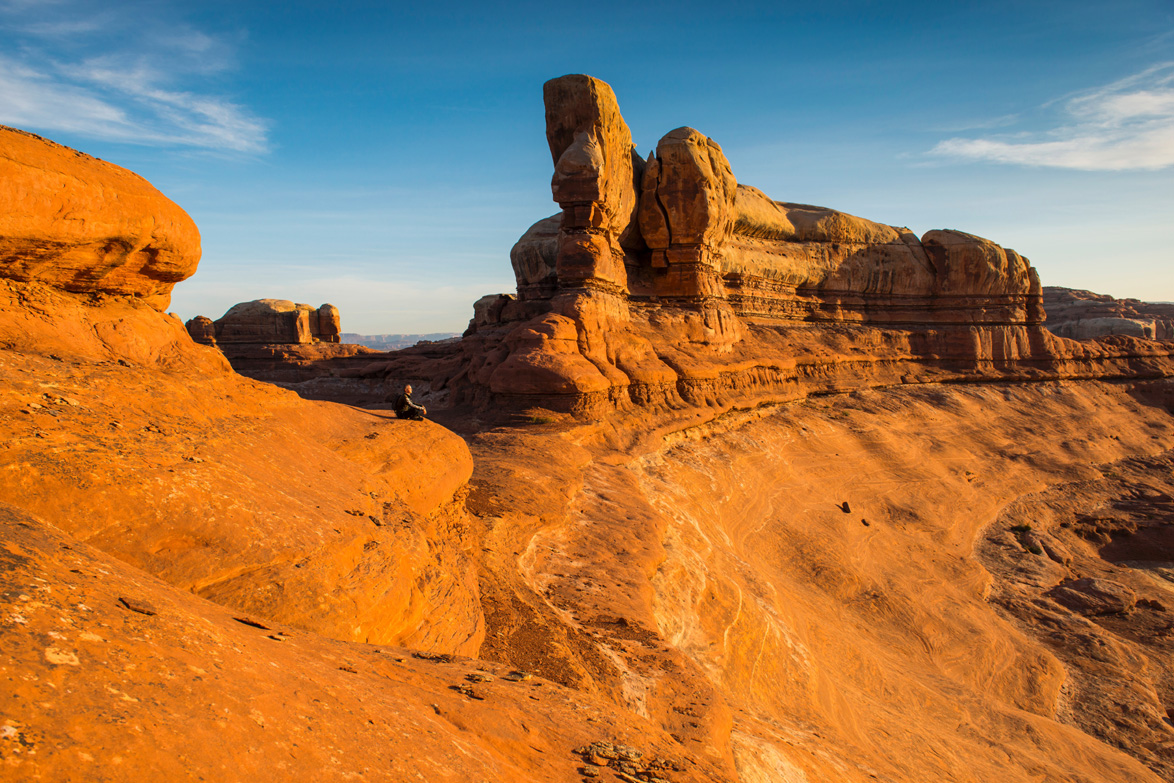 Island in the Sky is the most northern section and, as it is sitting on a massive plateau, also the highest. A 22-mile road leads to the most spectacular views of Canyonlands. The visitor center, located at the beginning of the park road, is open from 9:00 am to 4:00 pm and can provide you with information about attractions and recreational opportunities. From the Grand View Point Overlook you can see 90+ miles in all directions and admire canyon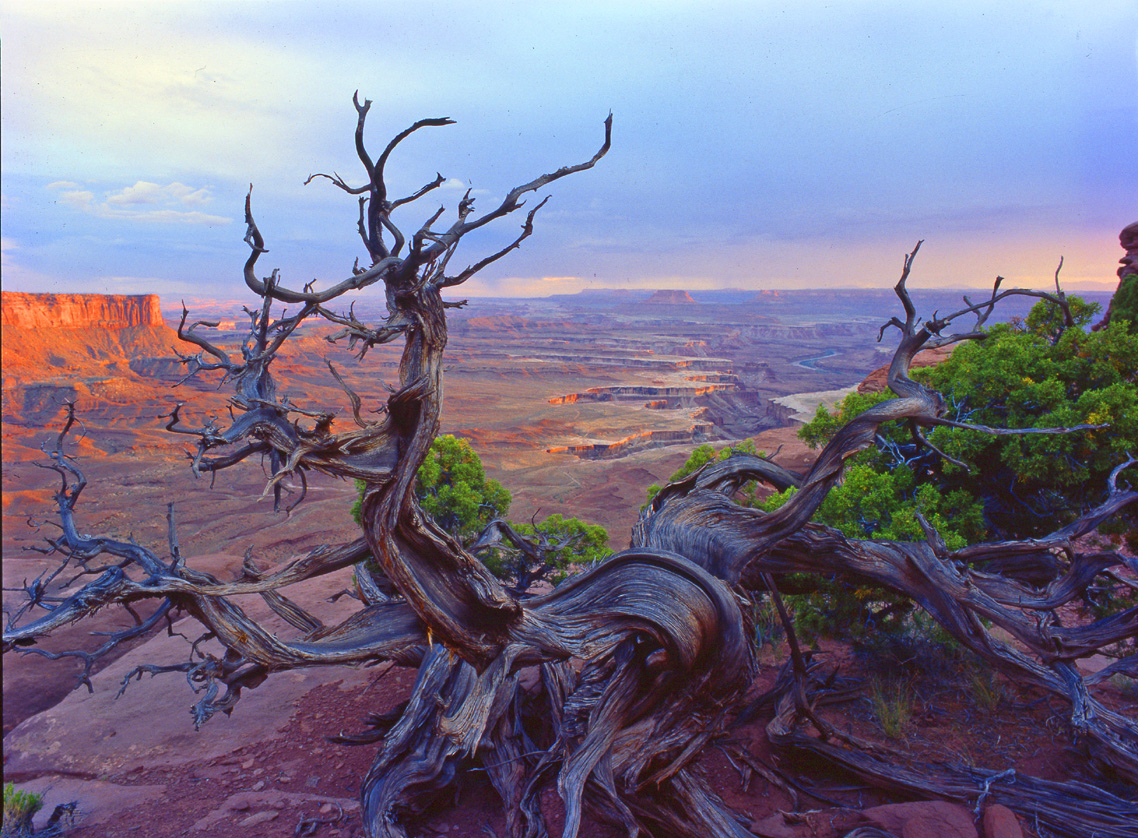 after canyon. At several viewpoints, you can look 985 ft. down to the White Rim, a sandstone ledge that follows the contours of the plateau. Mesa Arch is one of the most magical and most photographed arches in the world; – a coveted photo motive especially at sunrise.
You can get there via a short and easy 30-minute hike. All hiking trails located below the mesa are rather primitive, make sure to have a topographic map with you and know how to read it. Drinking water is not available on the trails, therefore, you need to bring plenty of water with you. In the Island in the Sky section, you can spot mule deer, coyotes, and even bobcats along the road. Due to the high temperatures during the day, most other animals in the park are nocturnal. Despite the sparse vegetation, the high plateau is home to a large variety of birds, including red-tailed hawks and several types of jays.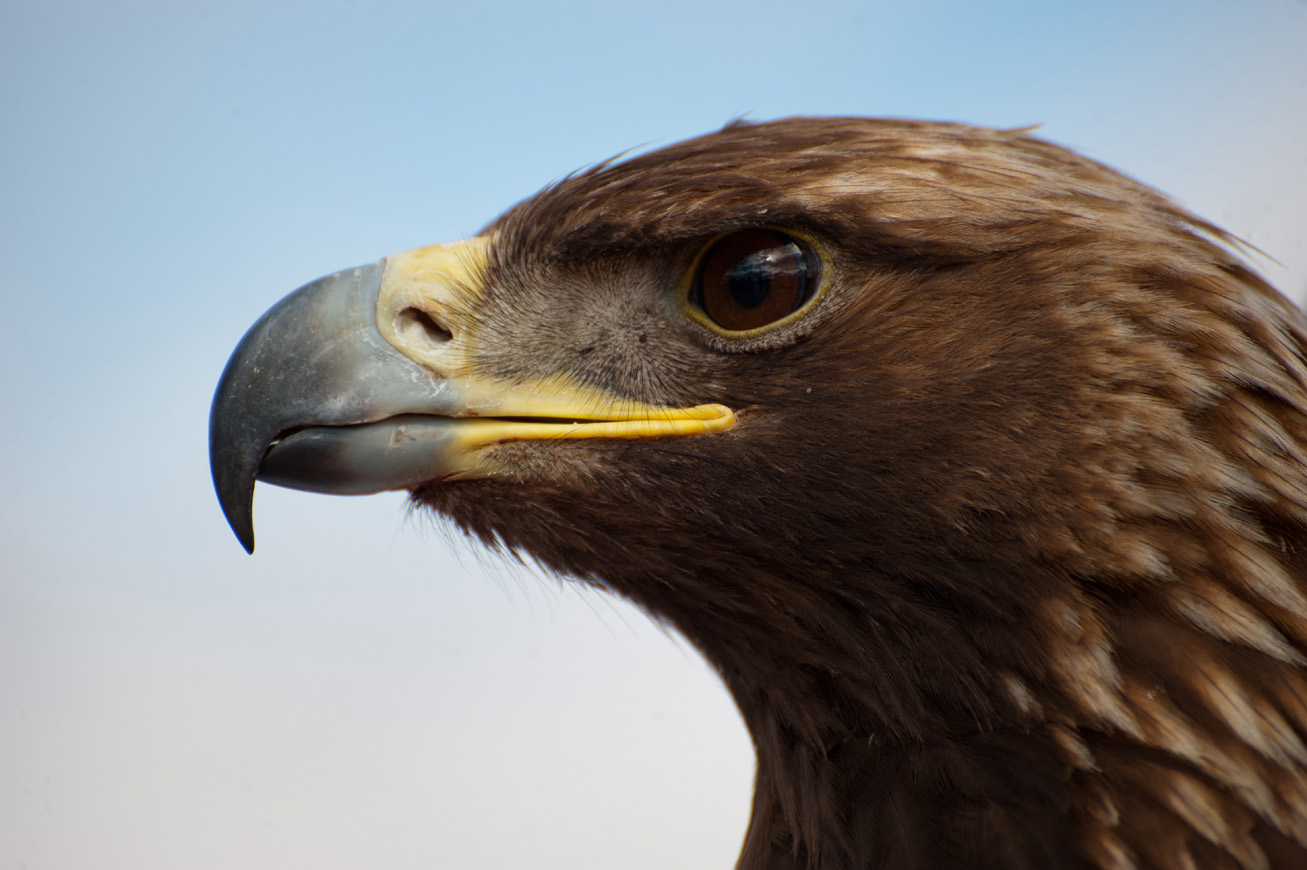 The Maze is considered the wildest area in Canyonlands and also the most remote. Here you can find a confusing tangle of ravines, described as a "30 square mile sandstone puzzle". It is easy to get lost in the Maze, as it is also known as "one of the most dangerous locations in national parks". If you are looking for solitude and are equipped for the challenge, the Maze is just the spot for you. Due to its remoteness and the difficulty of its trails, the Maze requires a bit more time and independence. Most visitors spend at least three days in the Maze, and exploring the area can easily take a week. You can access the area on foot, mountain bike, or four-wheel drive vehicle. Be sure to always have a map, a GPS device, and, just in case, a charged cell phone with you, although having cell service is not always guaranteed. To get to the remote area, take Highway 24 and follow the signs and unpaved road to the Hans Flat Ranger Station. There, you can pick up all the necessary information about The Maze. The ranger station is open daily from 8:00 am to 4:30 pm. Be sure to fill your gas tank before heading out there, as there are no gas stations along the way. Please also be aware that even if you do reach someone by cell phone, it may take days before you are found.
A little northwest of the Maze area is Horseshoe Canyon. It features panels of life-sized figures on the walls of the High Gallery, Alcove Gallery, and Great Gallery, a 200-ft. high rock wall. These figures were painted by the prehistoric inhabitants of this area more than 2,000 years ago. Both human and animal shapes are represented. Horseshoe Canyon is considered one of the most significant rock art sites in North America. It takes about 6 hours to complete the approx. 7-mile loop. Early morning is the best time to take pictures of the panels.
In the mood for water sports? A rafting tour through Cataract Canyon, located in the southeast section of the park, is one of the most popular river runs. Those who want to experience this wet and wild ride on the waves should start in Potash, southeast of Moab. From there, it is a 96-mile trip through Cataract Canyon to the Hite Marina at Lake Powell. The first 37 miles are rather tame, with spectacular views of red glowing rocks against a crystal clear blue sky. The raft gently glides past cliffs, sandstone sculptures, and rock habitations of prehistoric and historic inhabitants. But south of the confluence of the Green and Colorado Rivers, at mile marker 64, the adrenaline rush kicks in. Spending the night on the river bank, complete with campfire and a barbecue, before embarking on this thrill ride is recommended. This way, you will be fresh and fit for your adventure. Twenty-nine rapids with names like "Little Niagara", "Satan's Gut", or "The Claw" will have your emotions ranging from fear to hope and fun to excitement. Foaming waves and the thrill of speed are guaranteed. No more admiring the views – it's time to hang on. It finally calms down when the Colorado River runs into Lake Powell. You can find operators in Moab that provide guided tours of 1 to 5 days, including food, supplies, and equipment. If you are going on the water by yourself, you will need a permit (Wild Water Permit), available at the visitor center free of charge. Of course, having all the prescribed equipment is a requirement.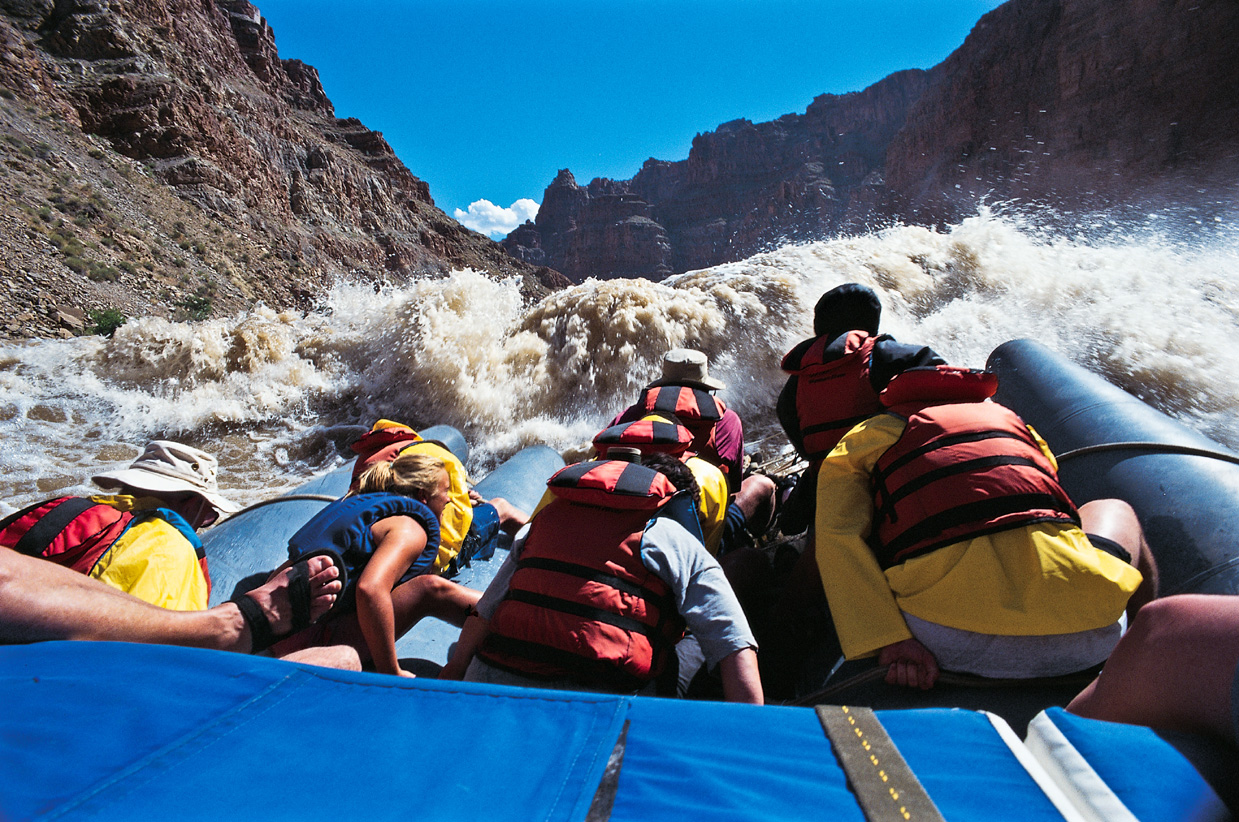 If you want to go on an adventure tour with an experienced outfitter, you can contact Western River Expeditions. Their two or four-day rafting tours through Cataract Canyon include first class "whitewater" rafting, wonderful hikes, delicious food, and, the icing on the cake – a flight over Canyonlands back to Moab. You could not do all this by yourself. The sister company, Moab Adventure Center, offers a variety of adventures in the nearby Arches National Park, which you will surely visit as well. When you are in the area, Arches is also a must-see destination.
Those who want to explore the river areas on their own should be careful to stay up-to-date on water levels and weather forecasts. Severe thunderstorms in the spring and summer can cause flash floods that tear through the canyons. Hiking trails are also often closed after a lot of rain. Over the years, an almost untouched ecosystem has developed in several areas of the park, and a variety of animals can be found there. Most mammals like foxes, badgers, and bobcats live in seclusion. Scorpions and snakes can pose a risk. There are seven varieties of snakes, including the poisonous Midget-Faded Rattlesnake, a prairie rattlesnake that can grow up to 3 ft. in length. If it is not surprised by your presence and hears you coming, it will immediately get out of the way and hide in a bush or under a rock. Horror stories of snake bites are mostly caused by people trying to attack the snake. Snakes are especially active at dawn and dusk, and it pays to be particularly careful during those times of the day. A degree of caution is warranted in all national parks, especially if you are engaged in extreme sports activities. Other than that, nothing should stand in the way of the adventurer. Stay alert, discover the true origins of the park, and experience the magic of the primeval world of Canyonlands.
You can reach Canyonlands National Park via two access roads: there is an exit off Highway 313 that takes you to Dead Horse Point of Island in the Sky. The entrance to Needles is south of Moab off Highway 211. Getting to the Maze is a combination of unimproved and gravel roads, and as described above, is only possible with a 4-wheel drive, high clearance vehicle. It is common sense, but you can't say it often enough: make sure you have enough drinking water and don't approach wildlife!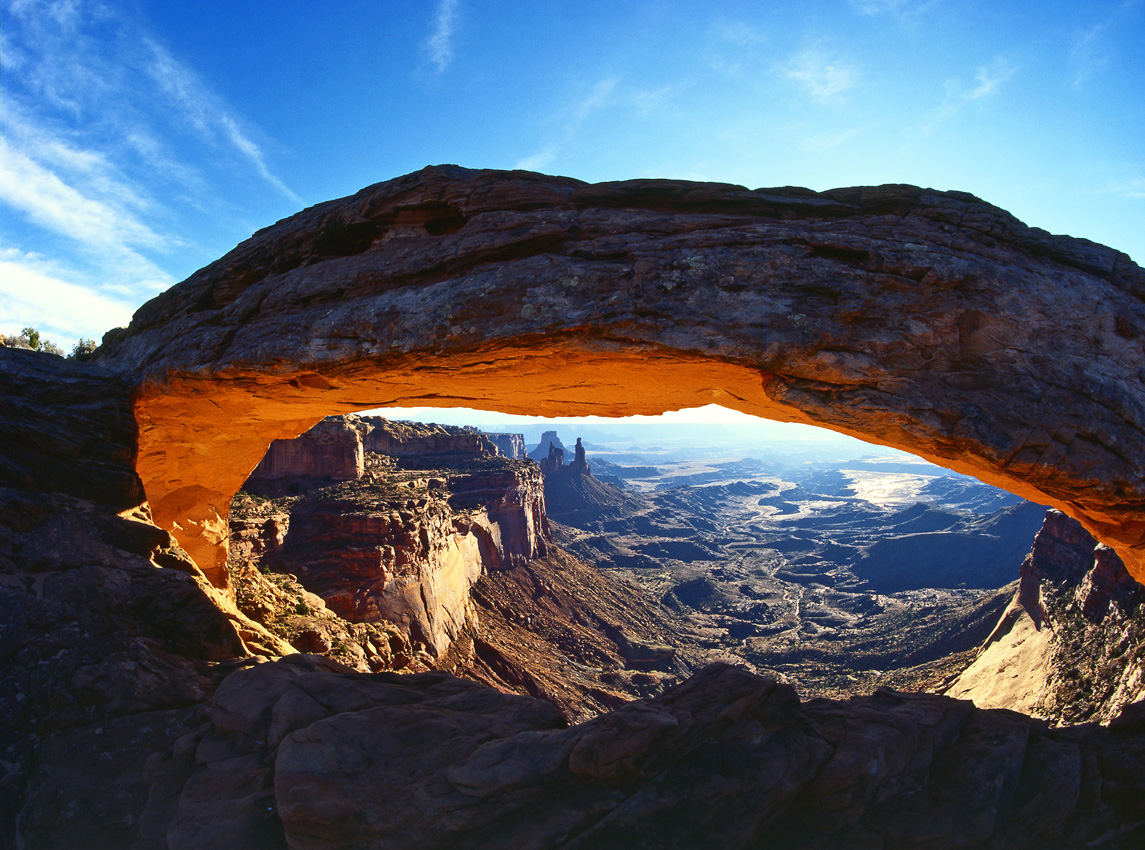 Information:
The town of Moab is not only the gateway to the fascinating national parks Arches and Canyonlands, but is also an attraction in its own right for tourists, photographers, artists, film makers, and extreme sports enthusiasts. The best times to visit are spring and fall; if you are looking for more solitude and nature, then winter. Summers can be very hot and are therefore not ideally suited for hiking or mountain biking. However, they are perfect for rafting tours on the Colorado. You can find numerous restaurants and hotels in town. Recommendations include the Aarchway Inn, located on the edge of town with wonderful views of the red rocks; the magical Cali Cochitta Bed & Breakfast in a small, restored Victorian house, and the Sorrel River Ranch, embedded on the banks of the Colorado River, approx. 1 hour's drive from Canyonlands.
Moab Visitor Center
Corner of Main and Center Street, Moab, UT 84532 * Tel: 1–800-635-6622 * www.discovermoab.com
Canyonlands National Park, 2282 Resource Blvd. Moab, UT * Tel 435-719-2313
www.nps.gov/cany/index.htm
Visitor centers are located in the Island in the Sky (Tel: 435-259-4712) as well as in the Needles sections.
(Tel: 435-259-4711), both open daily from 9am to 4pm.
Back country reservation Tel: 435-259-4351
Western River Expeditions/Moab Adventure Center
225 South Main Street, Moab, UT 84532 * Tel: 801-942-6669 * 1-866-904-1160
www.westernriver.com * www.moabadventurecenter.com
Aarchway Inn
1551 North Highway 191, Moab, UT 84532 * Tel: 1-800-341-9359 * www.aarchwayinn.com
Cali Cochitta B&B
110 South 200 East, Moab, UT 84532 * Tel: 435-259-4961 * www.moabdreaminn.com
Sorrel River Ranch
HC 64 UT-128, Moab, UT 84532 * 435-259-4642 * www.sorrelriver.com
Photos: Moab Area Travel Council/Tom Till; NPS/Kait Thomas; NPS/Neal Herbert; Utah Office of Tourism; Western River Expeditions;